Empire of Storms by Sarah J. Maas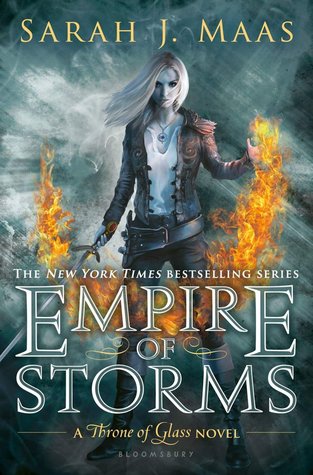 3.5/5 stars
This review is going to be less neat (and out of order because I still need to review Queen of Shadows!) and a bit all over the place, but I am very much short on time and still wanting to get this review written and posted while it's alls till fresh in my mind. I took about a week to read this novel (700 pages!!) and I'm going to jump right into the issues I had with the book and why the series has dropped from 4/5 stars.
Rowan and Aelin. While I loved their friendship and slight romantic tension in Heir of Fire, seeing their full-blown romance in this novel was not something I enjoyed. I realize that they are going to be together from here on out, and I'm okay with that. It has just become read because what made them so interesting as a pairing has vanished now that they are together. I will touch more on this in my next point.
The lack of character differentiation. Okay, what exactly is the difference between Rowan, Lorcan, Aedion, Gavriel, and Fenrys? I know some fans of this book are going to hate me for this, but literally any of their lines or decisions could be swapped and it would sound completely normal. I get that all fae men are strong and stubborn and territorial but sometimes it feels as if all of these men exist as wish-fulfillment of the idea of a protective and controlling male, while also being progressive because they aren't human, and so this isn't how we think men should act in reality. They are other-worldly and animalistic and have these uncontrollable protective instincts because they've been breed into them for thousands of years. Don't get me wrong, Lorcan and Elide's chapters were some of my favorites to read, but as soon as Lorcan falls for Elide, his personality fades away and most of what differentiated him from the rest is gone. He becomes a character who follows the same plot trajectory of many before him. Same with Rowan and Ailen. Dorian stands out amongst them because he is softer and willing to let Ailen venture off as a means to an end, and Dorian's past very much affects him and his relationship with Manon. I like Lorcan. I like Rowan at times. Aedion was fantastic. But now, they seem to be all morphing into the same person and that's no fun. Aedion's one goal in life was to serve his long-lost queen and for a portion of this book that shifts and he is becomes the lover and defender of Lysandra, and while I enjoy them as a pair I want Aedion to still resonate on paper. I want him to not follow the exact love story of Aelin and Rowan, of Lorcan and Elide, and maybe even Dorian and Mannon. Which is the story of two people who are not supposed to be together but the the men are so enthralled with the women that the they throw away reason (and their personality) to become lover and fierce protector. There is a hint of a shift for Aedion that I enjoyed; Lysandra brings up the idea that Aedion has never really wanted things that weren't already thrust upon him because of his birth. Aedion echoes this thought in the final battle when he is fighting and the reader sees how he was brutally trained because all he would ever become was the protector of the Queen. I want to see how this motivates him. Anything that helps these guys not lose their depth.
The plot seems all over the place. This is probably because Maas decided to keep the actual mission a secret for the whole novel and then everything seemed haphazard.
The final and worst issue I have with this book is that Maas no longer makes me care about Aelin. Aelin was the reason that I read the first three books. She is such a unique and layered character. She was ultra-feminine, enamored with pretty material things. She was selfish and selfless with those she loved, a cold, calculated assassin with a bleeding-heart. Aelin (or rather Celeana) was a ball of contradictions and power and I loved her for it. Now, the story has become broader and we have all of these fun extra characters and a massive scope, but we have lost sight of Ailen. She wants to be Queen and she wants Rowan. We understand that. But we don't get to see much else. I think part of the issue is with plotting. The team's journey seems really scattered and Maas' has Aelin keep all her plans a secret from her court as well as the reader and I just don't think that is the best choice. There is supposed to be this huge pay-off surprise at the end, when Aelin's court and the reader see what she has been orchestrating off page the entire time, but I do not think that they payoff was worth the sacrifice of not diving deep into Aelin's head and seeing her work to accomplish so much and seeing her weigh the consequences of each decision and basically, just seeing Aelin struggle to live up to what everyone around her hopes she will be. That would have been very powerful. But instead we see Aelin fight some kickass battles, have some witty lines, have sex. We don't see her humanity.
"Where do you think you're going?" Darrow demanded.
She looked over her shoulder. "To call in old debts and promises. To
raise an army of assassins and thieves and exiles and commoners.
To finish what was started long, long ago."
That's the powerful and awesome Aelin that I grew to know and love. How awesome would it have been if we actually saw her do what she claims here, in the beginning of the novel. Instead, this line exists, and the end of the book exists and it is revealed that she succeeded in her quest, but we didn't get to join her as she fought for it.
If it wasn't for the plot issues and my lack-of emotions toward Aelin, this book would have received 4/5 stars. The characters and the power-plays are really interesting. Elide has had wonderful character development. She is so smart and cunning and she while is she fully aware of what a cold and dark world they live in, she (I almost cried) still offered Lorcan a home when he needed it most. Also Maeve's blood oaths are a fun bit of wickedness. I also love Manon and her storyline. There is so much that is great about this book and I enjoyed it in spite of the many issues I had. I can't believe I have to wait an entire year to see how this series ends.
I'll be posting my Queen of Shadows review in the next couple of days. Queen of Shadows only received 3/5 stars, my lowest rating on a book in this series so far. So it was nice to see this book improve on that a bit.
Let me know if you enjoyed Empire of Storms. There was definitely a lot to love.